Bible Study Software
We have an abundance of applications, available to support you in your Bible studies on many different platforms. Several of these applications are cross platform. All applications in this section use the same module library and most store their library in the same place on your computer. All are based on The SWORD Project You can therefore try several and see which one you end up liking best:
Look at the whole range of applications or choose the icon for your platform:
| | | | | |
| --- | --- | --- | --- | --- |
| | | | | |
| Linux | Windows | OS X | Mobile | Web-based |
Web based software
SWORDWeb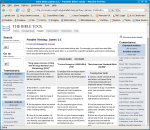 Do you want to have a fully functional and powerful Bible study tool right on your church's or organisation's website ? SWORDWeb is a ready to install web application, easily adapted to your organisation's needs.
Jump to SWORDWeb's website.

Also, be sure to try SWORD Online
Jump to The Bible Tool website.